Dehydrated Lotus Root
Quick Details:
Style: Dehydrated Vegetable
Type: Lotus
Process Type: Sliced
Drying Process: Air dried (AD)
Cultivation Type: Common
Part: root
Color: White and yellow
Moisture: 7% Max
Shelf Life: 24 months
Specifications:
Slices, dices, powder
Online Consultation
Return List
Details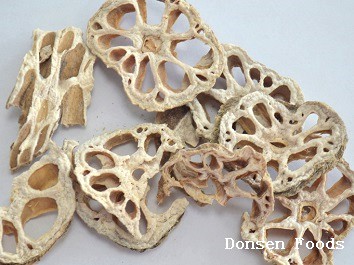 Name of Product: Dehydrated lotus root
Product Description:
The product obtained from clean, mature sound and wholesome fresh lotus root, made from selecting, washing, cutting, air drying, second selecting, inspecting and packing.
Ingredients / Content: 100% Pure lotus root
Size: flakes, dices, substantially free from any foreign matters
Type of Dehydration: Hot Air Dried
Color: white to yellow-pink
Flavor: With the characteristic flavor of lotus root
Moisture: 7%Max
Additive: Absent
Foreign Material: Absent
TPC: 100,000CFU/G MAX
Mold&Yeast: 1,000CFU/G MAX
Coliform: 100 CFU/G MAX
E.Coli: Negative
Salmonella: Negative
Country of Origin: China
Shelf Life: 24 Months
Storage: Keep in a cool, dry and clean place. Protect from moisture and direct light.
Used as: Fast / instant food ingredients.
Package: Bulk, use double layer PE bags and cardboard carton.
Lead time: 2-3 weeks
Sample evaluation: Available